About
Adventure Driven Vacations (ADV) is top rated adventure tour operator in Croatia. We are proud to be the first skydiving company in Croatia under EASA SPO regulation.
We specialise in development and  guiding of our own adrenaline charged and outdoor activities: Tandem Skydiving, Rock climbing, Kayaking, Hiking and Custom Tours. Our base and drop zone is in Zadar Region, just in the middle of the National parks Kornati and Paklenica.
We are proud  members of:
Adventure Travel Trade Association (ATTA)
United States Parachute Association (USPA)
National Association of Croatian travel agencies (UHPA)
ADV is motivated by a simple idea of creating a perfect Adventure Driven Vacation for you. We want you to make beautiful memories in active contact with nature, in the air, sea and land.
Our mission is to put a big smile upon your face!
All the tours we offer are guided by our professional instructors with years of experience. For all activities we use our own equipment which is maintained on the top level.
Your safety is our priority!
---
Once in a while everyone imagines what it would be like to live out some kind of adventure; something totally new and different from their everyday routine. Some people are inspired by movies, family, friends, or some memorable magazine photo. Others are inspired by the pure wish of exploring a variety of new thrills which make our life so exciting.
Every day should be an adventure and with this thought in mind, our story begins…
Our goal is to safely guide you through new, exciting Adventure Driven Vacations which we have designed just for you. We specialise in the elements of Earth, Air and Water, and first time adventurers are our absolute favourites!
After you have boarded the airplane for a skydiving tandem jump or aerobatic flight, climbed your first big wall, experienced kayaking or motorcycling in scenic surroundings or even better, done all of this in one week your Adventure Driven Vacations have just begun. However, we must warn you the ADV lifestyle is highly addictive!
Your old friends may not understand the ''new'' you, the topics that you used to talk about may seem bleak and uninteresting now but don't worry, a whole new army of ADVenture loving people are just waiting for you to share your stories with them.
Where better to do this, then hanging out at our weekly ADV parties, sipping on cocktails, listening (and playing?) to live music by our resident drop zone band surrounded by people who love life and nature. This is where the fourth element comes into play as we chat around the Fire and plan our new ADVentures together.
Now would be the perfect time to introduce our team, right? 
---
Grgo
ADV founder and owner
Tandem skydiving instructor
Pilot
Motorcycle guide
Although it wasn't that easy for him, gravity was something that actually drove him forward in life and didn't hold him back. Grgo is "The Head" of the ADV team in more than one way. He is actually the founder and owner of ADV and once you see him in person the other reason will become crystal clear; there is no way you could "slap on a smile" of that size on a normal sized head. He has tried it all: windsurfing, cliff diving, athletics, skydiving, ADV motorcycling, climbing, sailing…
Not only tried,  he excelled in all of these, but Grgo being Grgo rarely brags about his outstanding achievements. If there were a world championship in modesty, he would be world champion but yet again he wouldn't tell anyone… And now, after a 12 year successful IT career he is ready for a new ADVenture.
Special techniques:
Very long blues guitar solos
Downwind parachute swoop manoeuvre
Indestructible optimism
Good to know facts:
He has had a skydiving licence since 2001. and the following ratings: skydiving instructor and tandem pilot license, USPA coach, SL/I, TI and USPA S&TA – Safety and Training Advisor. Not only that but he has a Commercial Pilot License (CPL) and Single Engine Turbine (SET) class rating.
When he is not in the air he is shredding the continent on his motorbike. He has accumulated more than 70 000 km in the past 3 years and has been everywhere from the Alps all the way to the Nordkapp. He is the proud owner of the "Iron Butt" certificate for endurance riding when he covered 2500 km in less than 36 hours on his way to the northern most point of Europe.
Some facts you might be interested in:
10+ years of Sales & Business Management experience in leading international IT companies (IBM, Ericsson).
Has a proven track record of business project management, software solutions and innovation projects
What else?
If we told you that he is a passionate windsurfer, has a skippers "C" licence, AIDA F2 free diving licence, loves snowboarding, mountain trekking and cycling you would say that we're just sucking up to "The Head" so we'll just stop here. Oh yeah, did we mention that he plays lead guitar in drop zones resident blues band? No? Well he does. Honestly.
Over and out.
---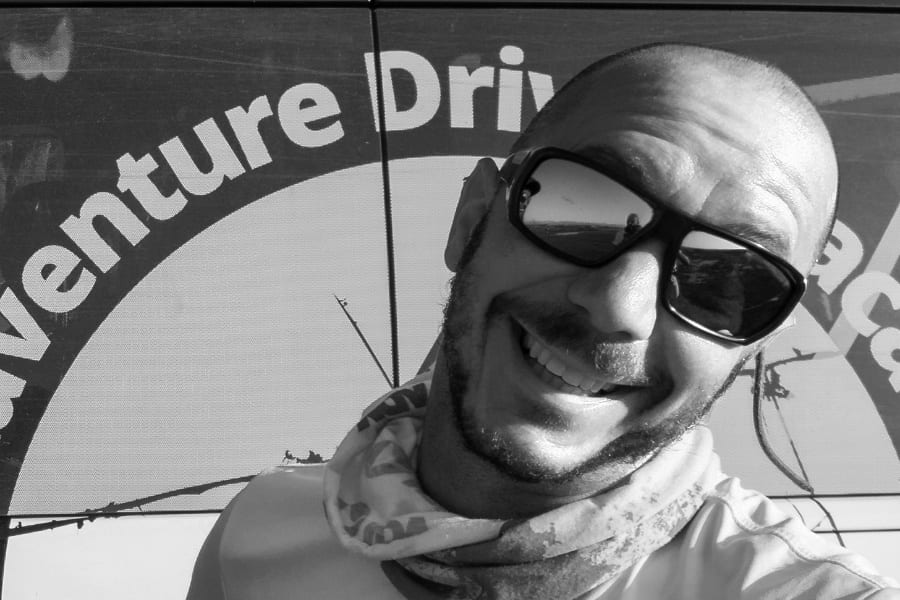 Vanja
Skydiving instructor
Tandem skydiving master
Motorcycle guide
Climbing guide
Iiiiiiiihhhhhhaaaaaaaaa!!!! Don't worry this is not the mating call of some wild animal it is just Vanja's specific way of expressing his love of life, nature and all adrenalin related sports. Very often, when everyone else has thrown in the towel after an exciting and tiring day, Vanja puts on his party hat and before you know it, everyone's dancing and having a blast. He is one of our team's most experienced skydivers and one of Croatia's best B.A.S.E. jumpers so you are in safe hands be it in the air, on the sea or on the rock. After a day spent with him you will have trouble wiping that big smile of your face!
Special techniques:
Big, fat smile during free fall, the faster the speed, the bigger the smile
Head down abseil pose
Positive energy power plant
Good to know facts:
He is an experienced tandem skydiving instructor and a member of the Croatian Free Fly National Team. Since 1999, when he started skydiving, he has made over 2100 jumps and participated in many national and international competitions achieving great results. He has been a B.A.S.E. jumper since 2005 with over 500 jumps from various fixed objects (windmills, buildings, chimneys, cliffs, antennas). He was a referee in the World Base Race in Switzerland in 2013. He is also the only one in Croatia, and one of the few people in the world to have combined alpinism and B.A.S.E. jumping when he scaled the 350m wall of Anića Kuk in Paklenica with his jumping gear and then jumped of from the top. Iiiiiiiiihhhhhhaaaaaa!!! or what!?
Some facts you might be interested in:
Hairstylist/creative last 15 years
Co-owner of "Frizeraj" – the coolest hairstyling studio in Zagreb
Owner of numerous certificates from prestigious London and Amsterdam hairdressing academies
What else?
Where do we start? If he's not jumping of something, or climbing up something he is either kite surfing or scuba diving. During winter Vanja hits the snow and goes snowboarding; off-piste off course, and on the rare occasions when he is at home he enjoys painting and drawing. Phew! Anything else? Well, he is a wicked bass guitar player and you will surely have a chance to hear him play at one of the dropzone parties!
---
Karlo
Skydiving Instructor
Skydiving Camera Flyer
Driver
To sum it up in a one word at the beginning of our story about him, he is the LEGEND! Karlo was one of the two teams in Croatia that started RW (Relative Work) skydiving scene in Croatia. This is the skydiving discipline you see the most on TV when skydivers grip to each other and form set of shapes or formations. He is one of the first skydiving camera flyers and skydiving instructor, being in a sport for almost 30 years, you definitely have something to learn from him.
Unfortunately for you, Karlo is also our skydiving van driver. Don't worry, he always overtakes from the correct side :)! When you are in the hurry he will get you on your destination safe and by the book. We are still trying to find out where did he learned to drive like this but currently we are little bit suspicious about Playstation games. If we find out we will let you know.
Special techniques:
Electric rhythm guitar
Sleeping a lot
Being cool
Did we mention he likes music a lot and takes his guitar with him everywhere he goes. If you will want, you can try and make him play something for you. Please take some ear plugs because he likes to play loud music and blues of course.
---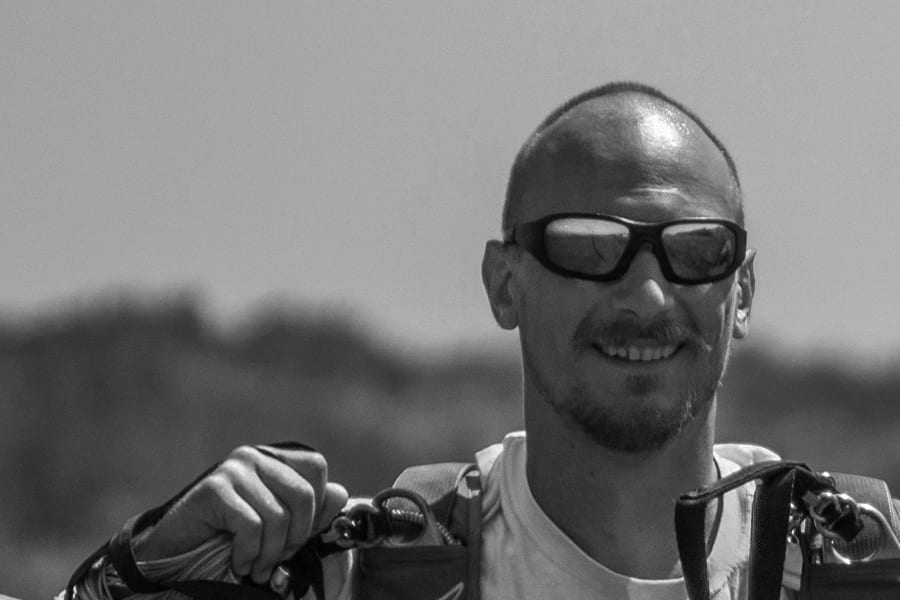 Marko
Skydiving Camera Flyer
Sea Kayaking Guide
Free Climbing Guide
USPA Tandem Skydiving Instructor
He can and love to do it all. Marko aka Dex was with ADV from the beginning and somehow this is not strange, because he is what ADV is, Passion for Adventure. From the first moment when he started to skydive he wanted to do skydiving camera flying. He is now one of the best skydiving camera flyers in Croatia. All those beautiful photos that you see on our web and social media channels, were most probably taken by him. When he is not in the airplane he guides sea kayaking tours and free climbing tours.
Special techniques:
Sunset skydiving photography
Skydive from the airplane wheels
Did we mention also that Dex is a scuba diver and likes to drive motorcycles a lot, also to run marathons just for fun. So to conclude his long story made very short here come and meet him, he will definitely make you smile in the air, on the sea or mountains.
---
Inas
Inas is our trusted pilot. We do believe that she is the best skydiving pilot around but you should come and check this out on your own, if you dare. Somehow it seams that our airplane likes her and she said many times that she likes our airplane too.
When she started to work with us, "skydiving bug" got her too and now she wants to do skydiving course and to be honest this is a small problem for us because we don't want our pilot to jump with us :). We want our pilot to land the airplane! Currently she is planning to buy a motorcycle just to have some fun when going home from the airport.
Special techniques:
Smooth and flawless landings
Bush flying skills
Good to know facts:
In her free time she likes to paint a lot and she is good at it. Maybe if you kindly ask her she can show you some of here work. Just for fun she also started photography and if we didn't mention before flying for us she was flying airplanes for aerial photography operations. She is an artist, everything she does she works hard to do it perfect.
---