About
ADV is first EASA Specialised Operations (SPO) – Skydiving company in Croatia and also proud member of USPA (United States Parachute Association). We are motivated by a simple idea of creating a perfect adventure driven vacation for you.
Our primary mission is to put a big smile upon your face!
We are adventure tour operator company from Croatia. All the tours we offer are guided by our professional instructors. We use our own equipment which is maintained on the top level to ensure your maximum safety.
Your safety is our priority!
---
Once in a while everyone imagines what it would be like to live out some kind of adventure; something totally new and different from their everyday routine. Some people are inspired by movies, family, friends, or some memorable magazine photo. Others are inspired by the pure wish of exploring a variety of new thrills which make our life so exciting.
Every day should be an adventure and with this thought in mind, our story begins…
Our goal is to safely guide you through new, exciting Adventure Driven Vacations which we have designed just for you. We specialize in the elements of Earth, Wind and Water, and first time adventurers are our absolute favourites! No, need for jealousy experienced ADVenturers, but you all know there is no better feeling than being the one to introduce someone to something completely new, some life changing experience.
After you have boarded the plane for a panoramic or aerobatic flight, decided to take your first tandem skydiving jump, climbed your first big wall, experienced kayaking or motorcycling in scenic surroundings or even better, done all of this in one week your ADVacations have just begun. Whether you like it or not you will then be a member of the ADV society. However, we must warn you the ADV lifestyle is highly addictive! Your old friends may not understand the ''new'' you, the topics that you used to talk about may seem bleak and uninteresting now but don't worry, a whole new army of ADVenture loving people are just waiting for you to share your stories with them. Where better to do this, then hanging out at our weekly ADV parties, sipping on cocktails, listening (and playing?) to live music by our resident dropzone band surrounded by people who love life and nature. This is where the fourth element comes into play as we chat around the Fire and plan our new ADVentures together.
Now would be the perfect time to introduce our team, right?
---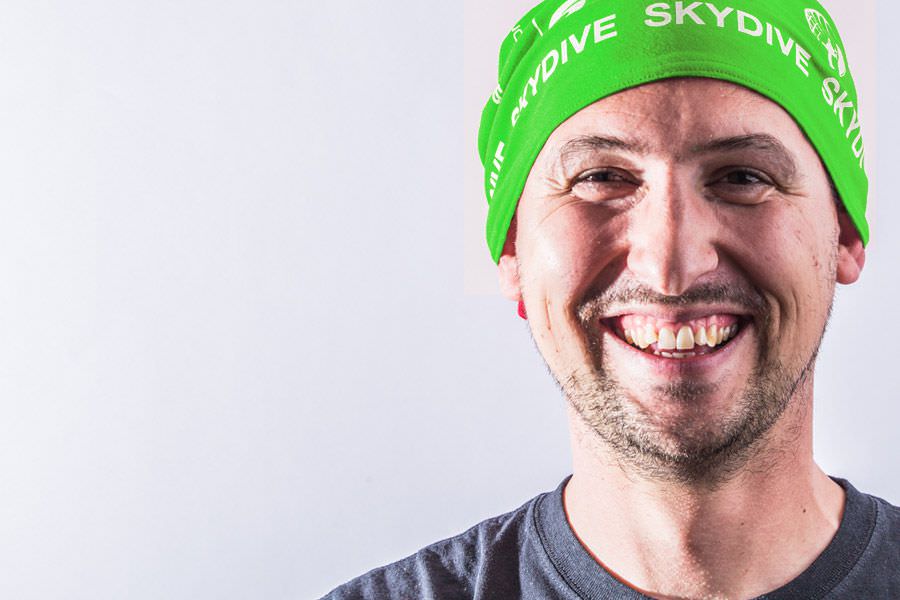 Grgo
ADV founder and owner
Tandem skydiving instructor
Pilot
Motorcycle guide
Although it wasn't that easy for him, gravity was something that actually drove him forward in life and didn't hold him back. Grgo is "The Head" of the ADV team in more than one way. He is actually the founder and owner of ADV and once you see him in person the other reason will become crystal clear; there is no way you could "slap on a smile" of that size on a normal sized head. He has tried it all: windsurfing, cliff diving, athletics, skydiving, ADV motorcycling, climbing, sailing…
Not only tried,  he excelled in all of these, but Grgo being Grgo rarely brags about his outstanding achievements. If there were a world championship in modesty, he would be world champion but yet again he wouldn't tell anyone… And now, after a 12 year successful IT career he is ready for a new ADVenture.
Special techniques:
Very long blues guitar solos
Downwind parachute swoop manoeuvre
Indestructible optimism
Good to know facts:
He has had a skydiving licence since 2001. and the following ratings: Croatia D license and tandem pilot license, USPA D license, USPA COACH, USPA static line and assisted deployment skydiving instructor, USPA tandem instructor license, Strong tandem instructor license and Sigma tandem instructor License….Not only that but he has a Private Pilot License (PPL) and is starting training to be rescue pilot.
When he is not in the air he is shredding the continent on his motorbike. He has accumulated more than 70 000 km in the past 3 years and has been everywhere from the Alps all the way to the Nordkapp. He is the proud owner of the "Iron Butt" certificate for endurance riding when he covered 2500 km in less than 36 hours on his way to the northern most point of Europe.
Some facts you might be interested in:
10+ years of Sales & Business Management experience in leading international IT companies (IBM, Ericsson).
Has a proven track record of business project management, software solutions and innovation projects
What else?
If we told you that he is a passionate windsurfer, has a skippers "C" licence, AIDA F2 free diving licence, loves snowboarding, mountain trekking and cycling you would say that we're just sucking up to "The Head" so we'll just stop here.
Oh yeah, did we mention that he plays lead guitar in dropzones resident band 3čevos? No? Well he does. Honestly.
Over and out.
---
Vanja
Skydiving instructor
Tandem skydiving master
Motorcycle guide
Climbing guide
Iiiiiiiihhhhhhaaaaaaaaa!!!! Don't worry this is not the mating call of some wild animal it is just Vanja's specific way of expressing his love of life, nature and all adrenalin related sports. Very often, when everyone else has thrown in the towel after an exciting and tiring day, Vanja puts on his party hat and before you know it, everyone's dancing and having a blast. He is one of our team's most experienced skydivers and one of Croatia's best B.A.S.E. jumpers so you are in safe hands be it in the air, on the sea or on the rock. After a day spent with him you will have trouble wiping that big smile of your face!
Special techniques:
Big, fat smile during free fall, the faster the speed, the bigger the smile
Head down abseil pose
Positive energy power plant
Good to know facts:
He is an experienced tandem skydiving instructor and a member of the Croatian Free Fly National Team. Since 1999, when he started skydiving, he has made over 2100 jumps and participated in many national and international competitions achieving great results. He has been a B.A.S.E. jumper since 2005 with over 500 jumps from various fixed objects (windmills, buildings, chimneys, cliffs, antennas). He was a referee in the World Base Race in Switzerland in 2013. He is also the only one in Croatia, and one of the few people in the world to have combined alpinism and B.A.S.E. jumping when he scaled the 350m wall of Anića Kuk in Paklenica with his jumping gear and then jumped of from the top. Iiiiiiiiihhhhhhaaaaaa!!! or what!?
Some facts you might be interested in:
Hairstylist/creative last 15 years
Co-owner of "Frizeraj" – the coolest hairstyling studio in Zagreb
Owner of numerous certificates from prestigious London and Amsterdam hairdressing academies
What else?
Where do we start? If he's not jumping of something, or climbing up something he is either kite surfing or scuba diving. During winter Vanja hits the snow and goes snowboarding; off-piste off course, and on the rare occasions when he is at home he enjoys painting and drawing. Phew! Anything else? Well, he is a wicked bass guitar player and you will surely have a chance to hear him play at one of the dropzone parties!
---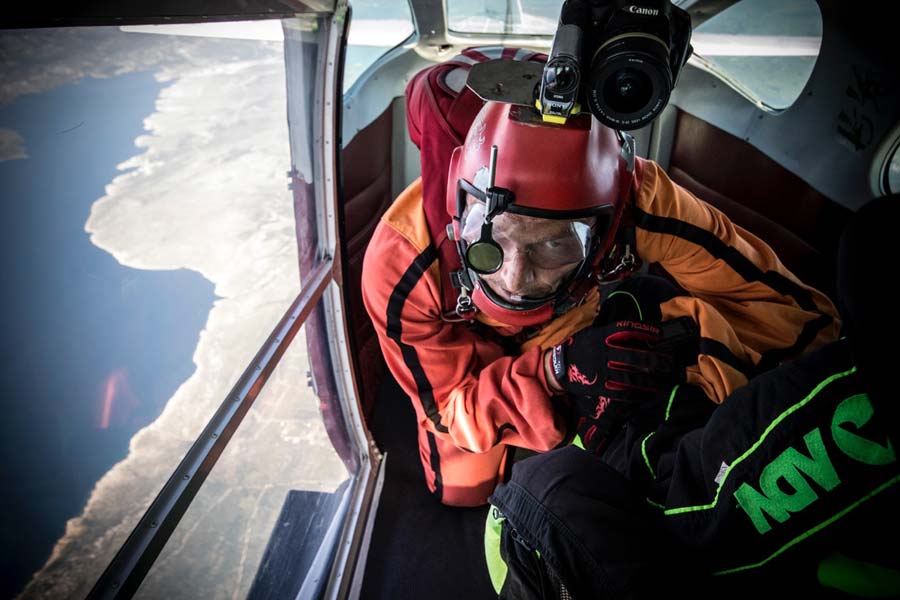 Miroslav Cizmesija
aerial photo/videographer
skydive instructor
Since he was a child, he was in love with the sky. Back then, someone made a "mistake" and took him to the local airport. Since the first glance at Cessna's and Piper's, his dream was to become a pilot and he started to annoy his family with the time he spent at airports. At 16, he stumbled upon info about a skydiving school (better to say parachuting at that time) taking place. Even with old, non-controlable round parachutes and low altitude jumps, he was hooked. Since then he made close to 1500 jumps and has a skydive SL instructor D-licence for 10 years. Jumping for more than half of his life, he is a "safety first" guy.
In 2005., he goes to Kinshasa, DR Congo to work for UN missions where he discovered his love for photography. Nature, macro and showing the beauty around us in general are his things. After great 1,5 year experience in the "heart of darkness", he moves to Florida to learn aerial video and photography, jumping with experienced tandem instructors. Getting back to Croatia, he's been introducing people with our biggest playground – the sky, either volunteering in skydiving club PK Ludus from Cakovec as a parachute instructor, or taking aerial photos for tandem jumps.Special techniques:
making people smile and feel much better in free fall
as opposite of going very fast in the sky, on the ground he takes it pole pole (slooowly on swahili)
looking at the bright side of life
Good to know facts: Loves to be airborne in any form: paragliding, sail gliding, skydiving… Since 1992., he made more than 200 demo jumps, 50 B.A.S.E. jumps and a few hours flying in the wind tunnel. During his stay in Africa, in free time, he visited Kenya, Tanzania (Zanzibar), South African Republic, drove across Zambia on local buses, rented Golf1 with a friend and made more than 7000km in SAR and Namibia :O.
---
Aldo
Skydiving tandem master
Motorcycle guide
At first glance, Aldo may look like a big tough guy but at the second glance you will actually see that he is a big, tough guy who swears a lot. Many have tried to change him and all of them have failed. Once you get to know him, you will see that he is actually a very cheerful guy and once you see him playing with his dog you will see his gentler side. If you know that he is an ex military police member, then all of the puzzles fall into place. He spends every moment he can outdoors, skydiving (over 1300 jumps), skiing, snowboarding, kite surfing, wake boarding, mountain biking… Aldo is at home in any situation and even if the unthinkable should happen, he will find a solution to the problem. He may swear a lot while doing so but the problem will be resolved in no time. That's Aldo for you!
Special techniques:
Surviving in tough conditions
Strong communication skills esp. In delicate situations
Dog whisperer
Good to know facts:
Skydiving licence since 1997 and following ratings: International USPA D license, International USPA COACH,International USPA static line and assisted deployment skydiving instructor, international tandem instructor license. He has more than 1300 jumps (400 camera jumps). He's a Ski and Snowboard guide and he plays drums as well.
Facts you might be interested  in:
1991 – 1995 Military Police with special forces – command with 120 people
1997 – self employed in Service for precise mechanics and Medical systems
What else?
No one can destroy a 4×4 vehicle as quick as him!
---
Anamarija
Chief of drop zone manifest
Head of travel agency
We call her 'The Slayer' and she is head of our drop zone. Anamarija has special talent of keeping all drop zone staff in line with the plan and she makes us safe and on time to do all what we have to do for the day. She loves skydiving and has already jumped tandem and is looking forward to jump more. When she's not at the drop zone you can find her on concerts, actually she is a big fan of music and in fact one of the people who is in teams that organize biggest music festival in Croatia. She is also the head and organizer of our ADV special events and our weekly blues parties at our drop zone.
Special techniques:
'Just do what I said' attitude
Choosing best music for your video material
Psychological and sociological experiments on staff
Some facts you might be interested in:
Has Masters degree in Sociology and Ethnology and Cultural Anthropology. Years of volunteering experience and President of NGO for over six years. 
Is terrified of heights but did tandem jump and she is trying to rock climb
Knows almost every band in Croatia 
What else? Her nickname is 'Mexican Slave Master' and some say she can kill people and puppies with her eyes. Also, she loves to sing.
---
Štef
Stjepan Jureković aka Štef has been climbing since 2007. Approximately. In his case, it's really hard to tell. He himself thinks it was around christmas time in 2005. that he started climbing in a local boulder gym but it was not until the spring of 2007. that he got any formal education in climbing. He prefers free rock climbing in a dry weather and doesn't like climbing in snow and ice. In fact, it's not the snow and ice that are bothering him, but the cold and wet. So, it must be the snow and ice after all. 
He likes it sunny and warm with just  a gentle breeze. Infinite spring with a bursts of summer he likes. And he likes it slow. No need to hurry. Absolutely no need for your moves to get faster then your thoughts. That is the reason he climbs. Because ascending lasts longer then descending and he likes things to generally last longer. As long as possible. If there is any other option besides going back home, he'll take it. Just to stay outside a little bit longer.
And he loves it when people turn into a tiny dots somewhere way down below him. The lower the better. Where you can no longer hear them arguing, yelling or swearing. No nervous breakdowns. No stress. And he likes to hold someone else's lives in his own hands. It gives him a power to distinguish the significant from irrelevant. What's below certainly is irrelevant. What matters is here and now. Let him share that feeling with you guys!
Special techniques:
upward chilling
no foot rest 
after party "blamage"
---
Sinke
His nickname 'Apolon' says it all. He is an extraordinary professional and always smiling, no matter what. 
Chief rock climbing instructor
Sea kayaking guide
In one short sentence, we can say that Sinke is natural born rock climber with long tradition of climbing in his family. He is type of guide you want to have by your side on the rock, very patient and methodical. If at any moment during your climb you feel scared or doubt yourself, he will do his best to motivate you and surely you will climb to the top. He is in the sport from the moment he made his first steps and we are still not sure if he walked or he learned to climb first. He organized his first trekking tours with his father when he was in elementary school. What more is there to say about Sinke? He is The Climber! Currently, he climbs 8a level routes and plans to improve this level as all real climbers do.
Special techniques:
All day free solo climbing 
Hitchhiking the Europe naked
Setting of new climbing routes barefooted
He has a brain of engineer, he started his academic education at Faculty of Chemical engineering and technology but after some time he decided to leave college because the call of nature was stronger and he started to climb professionally.
His favorite vehicle is his bicycle. This year he is planning to do 200 km bicycle tour in one day just to get warmed up for ADV season.
Please just take a look at his climbing project planned for this year:
Climb as many 8a level routes in Croatia
Free climb all routes in Rujičin kuk at Dabarski kukovi in one day 
Take the gold on BWSC Paklenica competition
What else?
His favorite saying is 'Under the circumstances…'. As already mentioned, he is very polite and always willing to help. Also, you won't find better translator of specific Croatian words and sayings to English. You could say we have our personal C3PO!
---
Anđela
Rock climbing guide
Sea kayaking guide
Despite being omnipresent at rock climbing schools, climbing events, weddings and various barbecues, Anđela still finds the time and energy to study Aeronautics at Zagreb's Faculty of Traffic Engineering and she is working hard on her dream to become a commercial pilot one day. She recently finished caving school, brushing up on her flying skills even there, imitating bats flying around the caves. In the past few years she has been climbing intensely and has been out paddling a lot. If you go sea kayaking with her take your climbing shoes as she will surely make you try DWS (deep water soloing) and if you go climbing with her, be sure to take your swimming suit as you will most probably go for a dip in the sea afterwards.
Special techniques:
Speleo free fall
She knows people
She knows even more people
---
Mario
Good to know facts:
Private Pilot License (PPL) in 2010. Since then, he has flown various airplanes, such as Cessna 150M, 172N, FR172, 182 and Piper Cub. He is flying Cessna 206 at the moment, hoping and dreaming one day he will be flying one of those "big birds" in some commercial airliner. In 2006., besides piloting, he has completed sky gliding and skydiving courses in 2006. and 2007.
Some facts you might be interested in:
Aviation Technical High School Rudolf Perešin in 2009 (Aircraft Technician)
Currently studying at Faculty of Mechanical Engineering and Naval Architecture in Zagreb
What else? He has been into sports ever since he was a little boy. Judo, running, weight lifting… and many more. He owns a pair of Aviator sunglasses.
---
Ivan
Ivan is one relaxed and cool person. There are rumours that the producers of Top Gun 2 are thinking of ditching Tom Cruise and hiring him instead. That is how cool he is; And he doesn't even own a pair of aviator sunglasses. He plays a key role in our team as he is in charge of getting us safely into the air and bringing our baby (the plane) back down to earth.
He is at home in the cockpit and is prepared to put up with our adrenalin junkies as long as he can fly the plane. He recently had a go at skydiving and admits that the feeling is incredible. He says he can hardly wait to jump again but promises he won't do so unless there is another certified pilot in the plane.
Special techniques:
a landing for every takeoff
throwing parachute equipped people out of an airplane
all-out sarcasm attack
---