Living in the moment is skydiving in Zadar
It's something you've heard a million times before, but probably never experienced. If you decide to come skydiving in Croatia with us, we guarantee you'll enjoy living in the moment…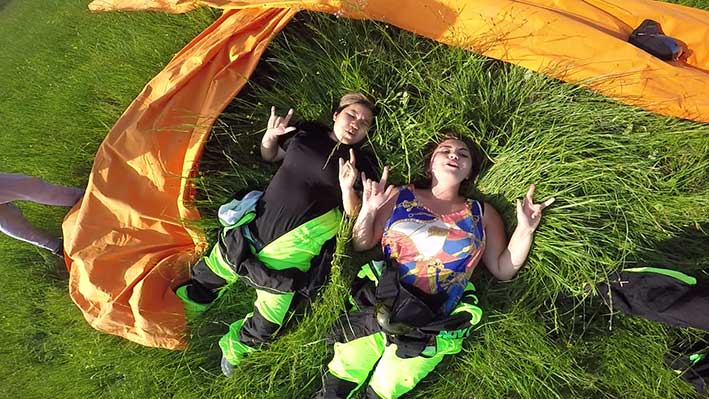 Two girls living in the moment after their tandem skydive in Croatia
To unlock the secret to living in the moment, all you have to do is jump out of an airplane…
It's probably one of the most popular phrases and something that everyone seems to be striving for, but to "live in the moment" is not necessarily easy. Actually, it's really difficult. Give it a try right now – forget all your problems, worries, obligations and just live in the moment for a few minutes… It just doesn't work that way, does it? Clearing your mind of all thoughts and focusing on the present is easier said than done, but it is possible and worth exploring, not least because it's been scientifically proven in multiple studies that happiness is found by living in the now. So how can you turn off and attain this seemingly difficult mental state? Well, one certain way is by doing something extreme like skydiving, rock climbing or any other exciting activity! Why? Because skydiving in Croatia, for example, raises your awareness and (positive) stress levels which makes your brain turn on its "living in the moment" mode – even before you've jumped out of the airplane! Let's break down this process step by step…
You meet the ADV team before your jump and although excited, you're still not really aware of what to expect
After putting on your jump suit and listening to the short safety briefing, you slowly start realizing that the next hour will probably be the most exhilarating in your life
While you're walking towards the airplane and listening to the exit instructions, you've almost certainly stopped thinking about which party to go to that evening…
After take-off, your mind is clearing and starting to focus and your heart is starting to beat a little faster, even while you're enjoying the incredible views of Zadar, the Kornati and Paklenica National Parks and the awe-inspiring Velebit mountain
By the time the door opens and the wind starts rushing into the cabin, your brain is almost certainly in "living in the moment" mode and you become acutely aware of every sight, sound and smell. Your eyesight focuses too…
Exit time! As you and your tandem instructor jump out of the airplane, your mind is empty… The adrenaline rush is at its peak and you're taking in the incredible views below – the sea glinting with sunlight, the islands, the mountains – and living in the moment!
As the parachute opens and you realize that everything went according to plan (as it always does), you're starting to come down from the adrenaline high you just experienced and are now flying the canopy down to the ground… You're still living in the moment, until you're suddenly taken out of that state by a single thought – "I want to do that again!"

Tags: Skydiving Croatia, Skydiving Zadar